The relationship elite athletes stablish with the international and national media is of key importance, not only for their sports career but as well for their professional future.
We are well aware of the importance of this and are happy to present to you our Themoove Media training program, so that athletes can benefit the most from their media exposure while learning key communication aspects that will aid them in their future professional engagements.
By enrolling in this program athletes will…

Develop a clear communications strategy.


Build a solid personal branding.

Grow and strengthen their network.

Increase their expositions.

Leverage their attractiveness for sponsors.

Give a boost to their sports career.
Themoove Media program
Designed by our Media expert, prestigious sports journalist Diego Martinez, athletes can choose to do the complete course or pick any of the individual modules, either online or on-site.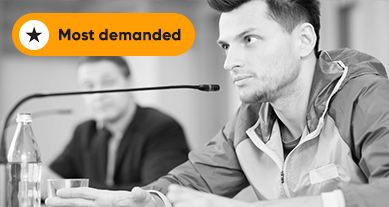 The cues to master Media Exposure (6 Hours)
In this training we will work on understanding & practicing the four key media exposures:
Press conference: how to manage batteries of questions for effective and clear answers
TV studio: how to pair image and messages in order to have successful appearances on TV
After-match declarations: how to manage emotions, the voice & the image to skillfully attend the media after the match/ competition
Self-recording: how to create & edit quality declarations yourself to provide to third parties. Future trend that needs mastering!!!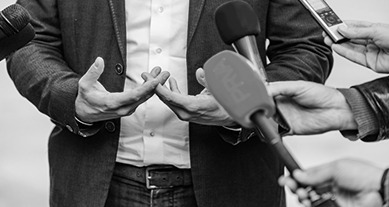 Public Speaking in the Sports World (8 hours)
This course offers professional athletes the needed tools to effectively speak in public and more specifically, to the media.
They will learn how to adapt both their image and voice based on their audience, while always maintaining their uniqueness.
 In a nutshell, they will acquire the skills and knowledge needed to make the most out of their media exposure on a highly practical way, while acquiring communication skills that will serve them well beyond their sports career.
A must for every athlete out there!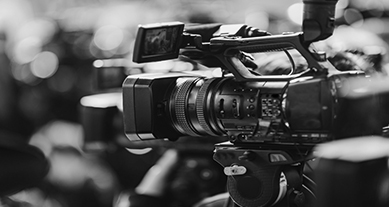 The Sports Commentator role    (4 hours)
This training has been designed for those athletes that are interested in learning and trying their hand at the Sports Commentator role.
Participants will have the opportunity to:
learn about the different roles and the needed prep work prior to broadcoasting and
practice their skills as Sports Commentators on recorded matches, receiving guidance and feedback from our Media mediaexperts.
Never learning something was so entertaining!
Interested in finding out more about our Media program?